Cleaning an electric fireplace insert is an important element of fireplace maintenance. Yes, compared to a traditional wood fireplace, keeping a contemporary electric fireplace is definitely a simpler effort, but it is critical to keep it clean in order to stay safe and enjoy a longer service life from your device.
When it comes to purchasing most household equipment, energy efficiency is the buzzword. This restriction does not apply to an electric built-in fireplace. The more well-maintained the fireplace insert, the more energy-efficient the device will be.
You may, of course, get the most energy-efficient electric fireplace insert. It is created in such a way that it will undoubtedly reduce your energy bill. However, unless you know how to clean your smart electric fireplace, its efficiency will undoubtedly suffer.
This is why it is critical to understand how to clean an electric fireplace insert. Despite the fact that there are several varieties of fireplace inserts on the market, the overall cleaning method differs little in terms of designs, forms, or fittings.
The standard cleaning rule for electric fireplace inserts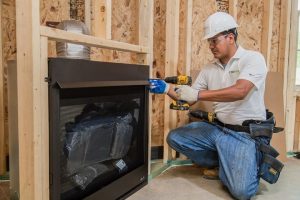 Electric fireplace inserts are generally simple to install and maintain. Because they don't require much outside ventilation, these inserts are essentially vent-free. Electric fireplace inserts are only available with hidden electric burners installed under the faux logs
These insert types are designed to run on a suitable power supply. So, in addition to cleaning, double-check the power wires and the LED lighting that connects to your insert.
Proper maintenance of these components is just as vital as maintaining the health of your fireplace insert.
How To Clean An Electric Fireplace Insert
Electric fireplaces are not like wooden or gas fireplaces, which must be cleaned on a regular basis. An electric fireplace insert may require cleaning on occasion, but it is a simple procedure.
It is, nevertheless, necessary to clean the insert at least once a year. Annual cleaning can help you keep the fireplace looking new and will allow you to inspect the internal electrical components.
The majority of model-specific cleaning recommendations may be found in your product handbook. However, a few general steps are listed below.
Turn Off The Machine's Power Supply
Allow the heater to cool sufficiently before cleaning the fireplace so that cleaning the hot heater is easier. Unplug the device as well to avoid shock.
Clear Out The heater
Begin your cleaning with the inside heater. Obtain a dry and clean cotton cloth. Now, lightly clean the heater's surface wall.
Take your vacuum cleaner's soft brush attachment or a comparable brush tool. Clean the heater's outlet now. Dust particles, maybe some carbon residues, and trash buildup can be found here. Once these harmful particles are removed, the performance of your heater will be restored.
Both Sides Of The Glass Must Be Cleaned.
The front glass panel is your next target. Its removal procedure may differ from one fireplace type to the next. For model-specific instructions, see your user manual.
After removing the glass panel, use a soft cotton towel to wipe both sides of the glass insert. Do not use harsh cleaners or abrasive wipers: take care to keep the glass as scratch-free as possible. To clean the dirt, use a semi-damp soft duster. Take extra care to remove any wet stains that may have formed. Otherwise, the magnificent shine of the inlay will be severely harmed.
Interior Cleaning
Dust particles are impenetrable and may enter via any opening. A similar infiltration might be found within your electric fireplace. Simply wipe away the collected dust with a soft cloth or a soft-bristled brush tool. After that, insert the glass panel into the fireplace assembly. (First-timers should refer to the user manual for instructions for repairing the panel.)
The cleaning job is now finished. To be honest, with this precise information, you may be able to assist others in learning how to clean an electric fireplace insert without any difficulty. It is a simple procedure, but it must be carried out with caution.
Check the device's performance by plugging it in. You will undoubtedly enjoy uninterrupted service, but if you notice anything unexpected after cleaning, contact your authorized service expert.